10 reasons why Hashimoto's patients don't get better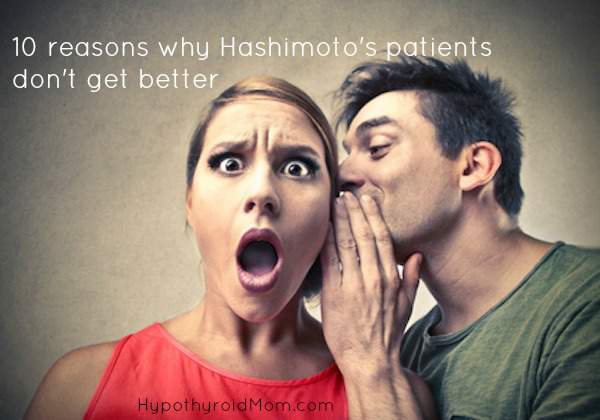 Often times mainstream doctors don't test for thyroid antibodies because it won't change how they treat you with Hashimoto's. The only solution they have is thyroid hormone replacement medication, but Hashimoto's is
more
than a thyroid condition. It is an autoimmune disease.
It is a pleasure to include Dr. Datis Kharrazian at Hypothyroid Mom. He is a leading expert in chronic illness, autoimmune disorders, and complex neurological disorders.
Written by Dr. Datis Kharrazian, DHSc, DC, MS, MNeuroSci, FAACP, DACBN, DABCN, DIBAK, CNS
There is not one easy fix to successfully managing Hashimoto's hypothyroidism, an autoimmune thyroid disease. As many people have learned the hard way, using thyroid hormones to get TSH within lab ranges certainly doesn't guarantee a fix for most people, although it can help. Hashimoto's is a multifaceted autoimmune condition that involves many mechanisms. To truly manage your autoimmune Hashimoto's hypothyroidism, it's important to understand the factors that contribute to it.
See More:
http://hypothyroidmom.com/10-reasons-why-hashimotos-patients-dont-get-better/